Recruit and hire with intention.
Develop leaders with love.
Design workplace cultures that ignite meaning.
Heart Work leadership, certified partner
Executive Certified Partnership [online, virtual, and on-site]
We work with companies that are committed to cultivating "learning organizations" that nurture sustainable Heart Work cultures. Our Certified Partner engagement equips organizations with the necessary tools to facilitate, translate, and apply the Heart Work Leadership framework to achieve business excellence. By exploring the research and psychology behind heart-centered leadership, designing cultures of love, translating the framework into operational excellence, and equipping trainers to facilitate the program effectively, organizations can create a transformative environment that fosters personal and professional growth, nurtures positive relationships, and achieves sustainable success.
(Designed for Consultants and Executive Leaders)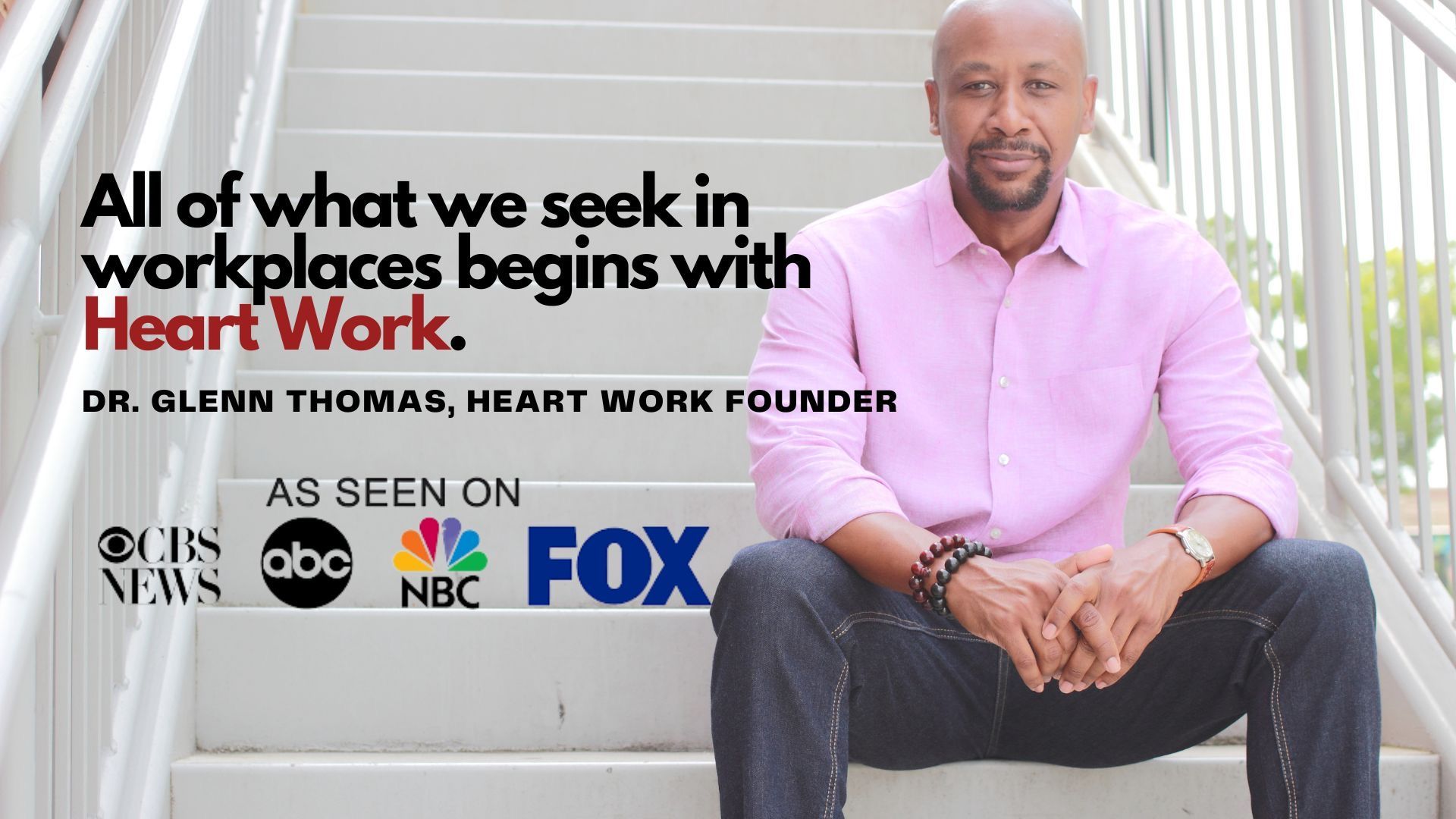 Heart Work, works, inside-out
Our empirically based learning and development engagement is designed from the research of Dr. Glenn Thomas. A "Heart Work" culture must permeate your organization's business infrastructure. Designing and executing a comprehensive work plan that addresses the entirety of operational excellence, with a specific focus on business infrastructure, is essential to success. A well-designed "Heart Work" engagement ensures that all aspects of the organization's operations, from processes and systems to technology and resources, are aligned and optimized for long-term sustainability.
Policies and Practices
1. Conduct an assessment of existing policies and practices to identify areas that align with heart-centered leadership principles and areas that require refinement or development.

2. Collaborate with key stakeholders to develop policies that promote employee well-being, work-life alignment, diversity, equity, inclusion, and ethical decision-making.

3. Ensure policies are aligned with legal and regulatory requirements while reflecting the organization's commitment to heart-centered leadership.
Employee Experience
1. Develop an employee experience (recruitment, hiring, onboarding, development) program emphasizing heart-centered leadership principles, organizational values, and cultural norms.

2. Create engaging and interactive materials to introduce new hires to the organization's vision, mission, and heart-centered practices.

3. Incorporate "Heart Work" experiences that promote relationship-building, empathy, and understanding among new employees and existing team members.

4. Provide continuous development and resources to equip leaders with the skills to support and mentor new employees during their onboarding journey.
Heart Work Integration
1. Assess existing operational processes/programs/models and workflows to identify opportunities for incorporating the "Heart Work" framework, assessment, and design tools.

2. Develop strategies to integrate "Heart Work" into performance management, communication channels, and decision-making processes.

3. Foster collaboration, teamwork, and integrative thinking by implementing systems encouraging cross-functional engagement, knowledge sharing, and collective problem-solving.

4. Provide professional development and support to leaders and employees on the "Heart Work" framework, including developing people, designing cultures, and executing operational excellence.
"Ever wonder when your heart meets your mind? This personal autobiography focused on leadership, Heart Work: 19 Expressions of Heart-Centered Leaders, provides a riveting response to this question. A page-turning, vulnerable story about his personal and professional journey, Glenn Thomas shares his lived experience of self-discovery, self-development, and the search for the leader within, leaving you to reflect on your own journey while exploring the 19 expressions you will need to embrace. A must-read for any leader aspiring to make their life's work meaningful and impactful for all those that follow." - BRENDA JIMENEZ, CEO OF MENTOR NEW YORK
Trusted by these Companies and Conferences
Charlotte AHEC | Atrium Health | Mecklenburg County Sheriff's Office | Communities In Schools North Carolina | Winston-Salem State University | Shaw University | Charlotte-Mecklenburg Schools | Morivian Church | Charlotte Works | YMCA of Central New York | DeKalb County Superior Clerk's Office | Urban Alliance | YMCA EMLE Conference | National Black MBA Conference | Goodwill Industries of the Southern Piedmont | INLIVIAN | Ohio State University | Novant Health | Goodwill Industries of North Georgia | YMCA of USA | Cabarrus Health Alliance | Catchafire
Subscribe
Be the first to know about new courses and discounts